Local Artisans
Ed VanderBaren
Ed VanderBaaren is an emerging local potter, who has been honing his skills for the past 25 years, and we are proud to be showcasing his work to our customers.
Using bold colour combinations and striking patterns, Ed creates functional pieces that have often been referred to as 'sturdy', and are sure to be the perfect conversation piece.
Lance Besharah
A former high school music and technology teacher, Lance Besharah found his love of wood turning at a young age after creating a chess set with a homemade lathe and old files. Since then he has inspired countless others with his passion, teaching many students about his techniques. Capturing the elegance of nature in every piece, Lance creates unique, thought-provoking works of art.
Gary Kennell
Gary's working life as a retailer, shirt designer and manufacturer involved a lot of international travel; during which he explored not only the men's fashion industry but what was happening in daily life outside that industry. He absorbed ideas for serving food as he enjoyed eating it! After he left the world of fashion, he set up his own studio workshop to get serious with his lifelong interest of working with wood. He began to see ways to incorporate "stripey" shirt patterns into his designs, and found uses for his boards like the ones he'd seen on his travels.
Gary is always looking for great live edge slabs of wood that he can turn into truly one-of-a-kind pieces He often finds these pieces at a friend's woodlot. After they're cut and dried, they then make the short trip to Gary's shop in Brockville for the finishing touches that are visible in the final product. A recently toppled willow on Gary's property will soon go through the same transformation.
---
* We also carry (and frame!) prints by Jean Matravers, Sally Munnings, and occasionally Pam McKinnon. If you're looking for a smaller piece of local art, we have cards by Kitty Kelly, & Pam McKinnon.
Robert H (Bob) Shackles
About the Artist
Bob is an elected member of the Society of Canadian Artists (SCA) and the Canadian Society of Painters in Watercolour (CSPWC). He works in oil, charcoal and watercolour.
Artist Statement
"I am an artist and designer. I practice and share my craft. I continually work on the skills I need to make insightful statements and advance my ability to see. My style of painting allows the viewer to participate in the painting itself and imagine much. The overall design: colour, center of interest, values, gesture etc. are fixed before I start painting, but once I get going patterns emerge from my response to brush strokes and colour mixtures."
Find more at www.robertschackles.com
---
Deborah Boivin
Watercolour and Acrylic Artist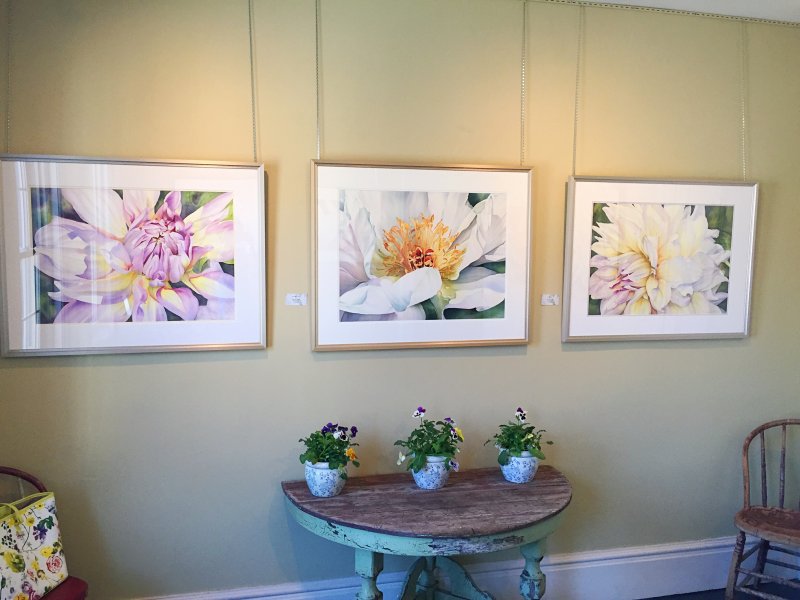 "Flowers. A world of beauty, shape, form, light and shadow...I am inexplicably drawn to these elements time and time again. It is an obsession and passion.
The first time my eyes witnessed the all-powerful image of a Georgia O'Keeffe painting, I was deeply moved, and a path was chosen.
I strive to capture a balance of force and delicacy, of strength and fragility, of dazzling colour and blinding white light.
My journey is one of limitations, of breaking boundaries, of discovery and insight. My quest continues."
---
Charles T. Low
From the photographer:
Charles T. Low appreciates so very much the opportunity to show his work here at the remarkable Hang Ups Creative Picture Framing.
Charles, camera-in-hand from the age of about ten, loves the craft of photography, and endeavors towards versatility vs. having a defined style. His photographs have featured on magazine covers and in articles, and he has given seminars on photography.
Whether photographing landscapes or portraits, or finding details which might ordinarily escape notice, Charles' particular interests are composition, light and the search for that elusive "something more" which distinguishes a good photograph from a work of art.
With so many people these days taking photographs, often with their phones, and often impressively good, the challenge for a serious photographer is to produce that "something more" to "make" rather than to "take" a photograph.
For Charles, that "something more" includes, beyond the art you see here, portrait and industrial photography.
Whether viewers recognize something more in these pieces is up to them. Charles' hope is that you can see, in these photographs, the joy he experienced in creating them.
---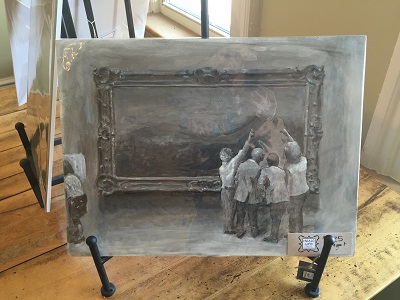 Paul Wyse
From the artist's website:
"With major portraits in the finest collections, including the National Portrait Gallery of the Smithsonian Institute, the Steinway Hall historical portrait collection, and the House of Commons of Canada, American born artist Paul Wyse has firmly established himself as one of North America's finest portrait painters.
His list of notable clients includes pop legend Billy Joel, Kennedy Center Award winning conductor and pianist Leon Fleisher, The Archbishop of Canada and Ottawa Seraphim, and star of Mamma Mia and Broadway leading lady, Louise Pitre."
Find more information at: http://www.wysefineart.com/index.html
To see an article on the most recent of Paul's paintings, please visit: http://www.recorder.ca/2016/05/19/artist-receives-rare-view-of-subjects
---
Peter Thorne

I classify myself as a visionary artist, this is not a claim that I consider myself an artistic visionary, but one of my work being inspired by visionary experience. These experiences are derived from things such as dreams, meditation, or even the prolonger staring at natural patterns such as wood grain or stone. The intention of this type of art is to convey what one's self experiences. This in turn allows us to find what is either unique, or common, within my own mind and perhaps come to an understanding of it. I am colourblind in the greyscale spectrum, a fact I was unaware of until I was eighteen, and this can be seen through the sheer lack of shades of grey throughout nearly all the pieces I've created. This is an example of a semi-unique visionary experience, as the world I see may be entirely different from the one you see (unless you share my malady).
I aim to know myself better through the production of my art. Each piece I've created is a glimpse into my mind, and what consumed it at that time. Any single work can be seen as a souvenir from a specific meditation of thoughts. Many themes repeat frequently throughout my work such as faces, symbols, scientific imagery, and even animals. This is due to my fascination with the phenomenon deemed Pareidolia, defined as perceiving things such as faces or meaning where there is none. Examples of this that we've likely all experienced would be the seeing of an animal or face in natural formations such as a cloud. I do not make any claims to know what this may or may not mean, but enjoy this phenomena none the less.
Most frequently, I will use ink and watercolours to create my works, the unmatched qualities of both mediums have fascinated me for many years. Although I do not constrict myself to these methods alone. Pieces created outside my common mediums will still incorporate similar techniques, an example of this is the dark black lines over vibrant colour that can be seen in the acrylics present at this show.
---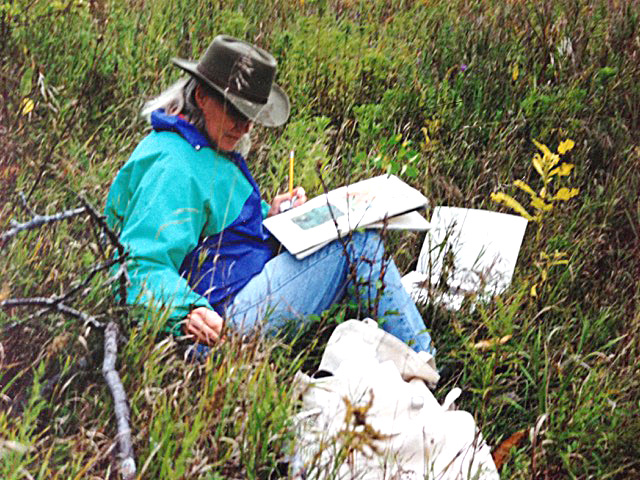 Andrea Mossop
Growing up immersed in a vibrant art and cultural climate in Toronto in the 1950s and 60s, Andrea Mossop first formally studied drawing at The Art Gallery of Ontario's Gallery School and at the Royal Ontario Museum. Through private oil painting lessons from life and on-site at High Park, oil painting became an early childhood passion .
Since graduating in Fine Art from The University of Western Ontario and the Ontario College of Art in 1974, she has achieved a reputation for breadth of imagination and depth of knowledge in teaching and lecturing. Andrea teaches life drawing, painting, colour theory and art history for St. Lawrence College Brockville, The Haliburton School of the Arts, the Ottawa School of Art in Orleans, and privately throughout Ontario and Toronto.
During the 1990s, Mossop sketched in company class and rehearshals, the dancers at The Toronto Dance Theatre and the National Ballet School. These drawings inspired the figurative work in The Absence of Colour, a joint exhibition with her mentor Hugh Mackenzie at the Bau-Xi Gallery in Toronto in 2000.
Andrea studied watercolour at the Ontario College of Art under Canadian War artist, Aba Bayefsky. Bayefsky's directive was to work from life, sight one shape at a time, scoop up shots of colour and deliver them with vigorous immediacy to the paper. As the passenger in a moving car or truck, Andrea has employed this spontaneous method on road trips. Andrea painted into three sketchbooks in rotation, one in her lap, one drying on the dashboard and another on the seat, with the watercolour palette wedged in the open glove compartment. At highway driving speed, the paintings express the urgency in their gesture and movement. Most works are executed in motion; a few are painted on site in the pauses in these travels through Algonquin Park, Ontario, Quebec, Eastern United States, and Sussex England.
Together, the works create an evocative visual log. Individually, they express the different energies of place, geography and weather.
Andrea also works in oil, monoprints and drypoint etchings, gouache, ink. Watercolour is the medium for travel sketches.
Andrea Mossop works as a full-time artist and art instructor from her home in Brockville.
---
Pam Warren McKinnon
Pam Warren McKinnon, a fourth generation Brockvillian, has sold over 1000 original paintings, and her work can be found in corporate and private collections around the world. In the year 2000 she was elected into the Canadian Society of Painters in Watercolour and received her certificate from Adrienne Clarkson, Canada's governor general. In 2009 the members of the Ottawa Watercolour Society made her an Honorary Fellow. This professional artist has been painting full time for nineteen years.

---
Fraser Radford
Fraser Radford was born in 1987 in Brockville, Ontario. He holds an Honours Bachelor of Arts in Art History, with a minor in Religious Studies (graduated in 2009) from Queen's University in Kingston, Ontario, Canada, a Fine Arts diploma from St. Lawrence College in Brockville, Ontario (2014) and a post-graduate certificate in Studio Process Advancement from the Haliburton School of the Arts (2014). He has held numerous volunteer and paid positions at galleries and museums in Kingston, Toronto and Brockville. He has apprenticed with Shayne Dark, one of Canada's prominent sculptors based out of Kingston, Ontario.
He currently holds membership with Modern Fuel Artist Run Centre in Kingston, Ontario. His work is held in private collections and has been exhibited across Canada, the U.S., and the U.K. His work has also been published in several magazines in Canada and the U.S, as well as The Peace Project, in Culver City, California in 2010.
---